India's Olympic Medal. Congratulations Gagan Narang Made it.
Gets Bronze. Makes India Proud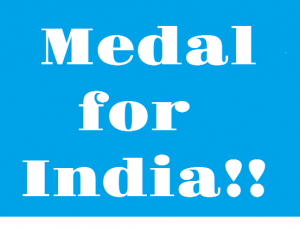 Gagan Narang has done it. First medal for India in the London Olympics 2012!! He bags a bronze medal in 10m event. In the tight match he manages to get into the top three.
There was a huge support for him and many people were wishing him all the success. Indeed, Indian league was disappointed with their star player Abhinav Bindra getting out, but Gagan Narang managed to make it to the final 3.
He scored 701.1 out of 1000. Although there were hopes of Gold from him, and keeping his previous rounds, it was disappointed to see him in third place but still there is excitement among the people throughout the nation with the medal getting in our hands.
People and journalists have gathered near his house and congratulating his family. It was shooting 10 m rifle that he got the medal. There are hopes on the remaining players who are there in London to play for the country. This is also a remarkable event for the people who have lost hopes of getting a medal. In a country where Cricket is arguably the only sport people watch, this victory will bring motivation to young aspirants who dream of making it to the Olympics.
Apparently, the Haryana Government is about to gift him Rs 1 crore as token for his activity and more gifts are expected soon. But the money doesn't matter. What matters is the priceless contribution he made.
Good Going Gagan. Keep the work, And junta is hoping for more medals from other as well. Lets wait and watch!!