Group of Death had it bloodiest match ending in Pak defeat!!!
INDIA WINS BY 8 Wickets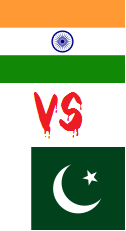 This battle is not new. Its been one of the deadliest fights in the world of Cricket. India Vs Pakistan manages to get the most eyeballs in Cricket even more than the world cup finals (provided India is not playing). But for many of the  Cricket fans across the border, it matters more than anything else.
Pakistan started of with a killer spirit and showed that they are in for a win in the very first over. It looked as if they are going to reach to 200 run mark but things changed suddenly as they lost some early wickets. It was well disciplined bowling by the Indian side that made the men in green all out in 128.
As if a small target was not enough, Pakistan made couple of blunders in terms of mis-fieldings. India lost just 2 wickets and made an easy victory. Australia has made it to finals and now things are comfortable for India if it beats South Africa. It was an outstanding bowling and fielding that bundled out Pak cheaply. Balaji, Ashwin, Yuvi were outstanding and the similar play was done by batsman too.