Telegram is NOT an Indian App | Related Narendra Modi messages are #Afwaah
There is a message circulated in whatsapp these days. The text of the same is below(in blue):-
DELETE WHATSAPP
Today our PM Modi ji spoke a slogan of Made In India.
     Come lets start with using TELEGRAM an Indian app instead of using the American app WhatsApp.

It is the first Indian social media app.

Think about it…Even the Chinese have refused WhatsApp and adopted the Made in China "WeChat", when we are going to start??
Use Whatsapp for one year & stop it!
Its one year cost is 56 Rupees, and In India there are 20crore Indians….
If we use WhatsApp then 20crore × 56rupees=1120crore rupees will go outside India, to create awareness please send this msg to everyone & download TELEGRAM.

TELEGRAM has more functions then WhatsApp:-
-It can send 50MB video
-It can even send Word, Excel & Adobe files
-In a group, 200 people can be added
-It is free of cost, no charges at all
-The most important thing, it works same as WhatsApp & the interface is also like Whatsapp only..
-So today onwards use >>TELEGRAM<<
>>(Telegram) is Indian<<
We at Articles2Read tried to do a small check on the authenticity of this message. First of all, PM Narendra Modi has never made such a statement. It may not be good on the part of the PM of India to raise such a topic though he can say this indirectly. Nevertheless, he has not said as this information that Telegram is Indian is not correct! Telegram is NOT Indian.
Infact, it is a company launched by Russian brothers in 2013 and this company is based in Germany. Please check this screenshot from Wikipedia.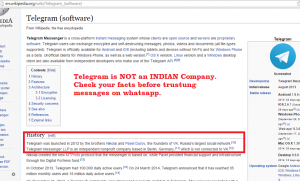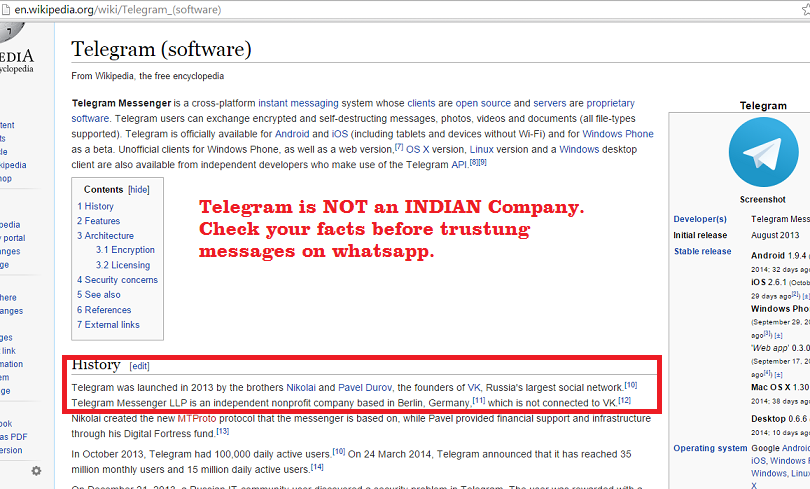 So next time you read such a message first check the facts. Patriotism is very important to have but don't let some opportunist or crazy person exploit your emotions.