A P J Abdul Kalam
India's New President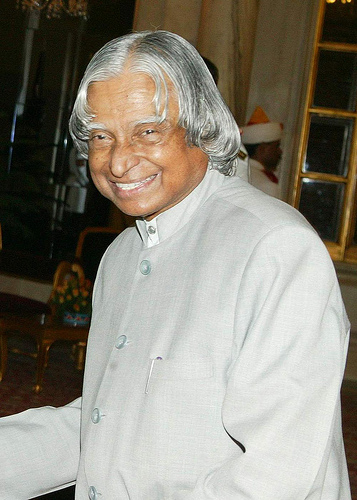 Avul Pakir Jainulabdeen Abdul Kalam is all set to be the new president of India. At least, if the buzz going around is to be believed, he is to go to his old post yet again. This time many parties are backing the missile man who has impressed the junta of the biggest democracy- India, with his skills, talents and of course work. 
So why do we need him? What does he have that many of the others don't? 
As per the recent developments in New Delhi, even the present President of India (Smt Pratibha Patil) has lost her credibility in terms of many news (or rumors) that are doing rounds, in sections of society. Even her son andCongress MLA Raosaheb Shekhawat  has been found with loads of cash (a whooping unaccounted 1 crore INR) in a suspicious occasion (though, later he claimed that it was party fund and he was on-the-party-job). 
In short, everyone linked to congress directly or indirectly now a days is facing a bad time for some reason and hence there is a need of the hour to have some one with excellent track record like A P J Abdul Kalam. He is a renowned Aerospace scientist and has been the president of India from 2002 to 2007. Interestingly, A P J Abdul Kalam has been awarded Bharat Ratna in 1997, which is  India's highest civilian honor.   Dr. Kalam has been instrumental in the Pokhran Nuclear test 2 in 1998 which made India one of the nuclear powers. 
One of the things not known about Dr. Kalam is the mission for youths "What Can I Give Movement" which is a movement aimed to tackle corruption – the burning issue in India. Born on  15 October 1931, Kalam graduated from MIT Chennai in 1960.