Lage raho Anna, Hum tumhare sath hai 
Anna Hazare effect is once again showing impact.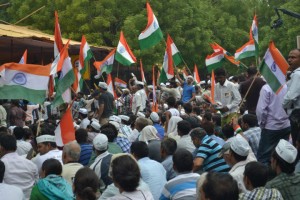 INDIA AGAINST CORRUPTION is once again running in full strength. And this time it is the special war. Because it will end with an end. Yes this is the Final War Against Corruption as they claim. And they are doing it. A few people of the group started the inshan and now with Anna Hazare getting into the league of fasting personnel, thousands are supporting the cause which is arguably the most important issue for the second most populous nation – corruption.
Yes, there are corruptions worth lacs of crores rupees, a huge chunk of Black Money in Swiss Banks is of Indians and than there are normal day to day activities like getting a driving license or passport, or even opening a bank account or getting the money of pension, that the normal citizen is unable to accomplish without the chai paani given to bureaucrats or the sarkari babus.
The people of the nation are ashamed to see their beloved country Bharat Mata  in the list of most corrupted nations and they are frustrated with day to day corruption that is showing no sign of getting over. Team Anna wants the Jan Lokpal Bill to be passed in parliament for which the Government seems reluctant. And why not, there are many tainted ministers in the Government. If this was not enough, there are many lined up.
The team fears that with the CBI functioning under the Government, it is very difficult to trap the fat cats. And that it is the same reason why the Government of India is not willing to pass the bill. Thousands of supporters have reached the camp and millions across are supporting in their own way via social media, the Internet or processions in their own cities.
A few of the fasting volunteers are already in hospital and there are concerns about the health of Anna Hazare, Arvind Kejriwal and a few others. But it is sure to have made a really huge impact on the Government and they soon have to do something before it is too late. We at Articles2Read.com will keep you updating on the issue, but till than let us wait and watch. All we can say as of now is- Lage Raho Anna, Hum Tumhare Sath hai.
Watch out some of the videos related to this topic:
Arvind Kejriwal calls for a week's support from students.

Anna's speech on 25th July

Baba Ramdev at Jantar Mantar