Should Team Anna Get Into Politics
To the respected team,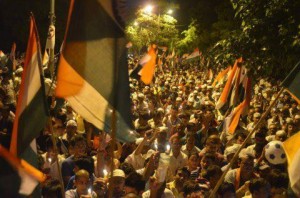 I was on a routine talk with a group of friends regarding the nation and where we are heading. Everyone was on the "blame game" or the "excuse" or the "hope" or the "angry" mode:
(Some of the key points which came out from the discussion related to the India against Corruption as well as the present situation came out as per the below points)
– Congress did this…

– Gandhiji should have done that…

– If Netaji Subhash Chandra Bose were there in 1947…

– If Hindus and Muslims could understand that…

– Even the BJP…

– They should be hanged and…

– Black money will make things ok…

– System CANNOT be changed…

– Education is main reason…

– Judiciary system is also….

– Society should…

– Team Anna will try but eventually…
The talk was getting heated with all of us blaming the system and feeling as if we are doing something about the nation. One of us who was not-so-big fan of team Anna popped up with his views "To change the system, you have to be the part of it". "You guys will just talk but things won't change with your talks. You will see that this movement will have IMPACT but will not CHANGE anything" he kept saying.
Some of us laughed at him calling him to have surrendered to the system. I was really annoyed. "How can an Indian think like that?" I asked myself. But he was correct. He was practical and eventually it proved that he was more intellect than us who hoped that team Anna can do something. Team Anna was defeated. People in the Government were doing what they wanted. They even didn't bothered to talk. And when they did, there were some very casual and planned statements. Indeed they knew that junta is so busy with lack of electricity, water, searching for job and off course, if they have one, to ensure that they don't loose it.
People sitting in the Government were apparently confident of the system. They have the data. They know, people are so accustomed to the system that they prefer to live hungry rather than to fight for their own money stuck in various departments. Who is Team Anna? What can they do?
When my friend said you have to be the part of the system to change it, it was an understatement but now I feel it had the weight. This "part of the system" thing is not a new concept for India. We  had some very wonderful concepts during our freedom struggle.
As Mahatma Gandhi said "Be the change you want to see in the world" or when Netaji took the responsibility of freedom in his hands and said "Tum Mujhe Khoon Do Mein Tumhe Aazadi Dunga". The battle we are fighting is not like the freedom struggle, it is fierce, it is very difficult as we have to fight within ourselves. We cannot use guns here. That is easy.
The system may let die Annas, Kejariwals and the likes. A good lokpal may help or may not. The people in power seem to be so intelligent that they can bring lokpal into the system but eventually bring SYSTEM into the Lokpal. Do we have a contingency plan for that or we will have a fasting for every failed Lokpal case that might come eventually?
You are asking whether you should make a party. The nation is asking – Shouldn't you?
We have a few good leaders but the nation needs more. People are so much into their day to day activities that they may not come to Juntar Mantar, they may not come to your rallies, they can share your views in social networking and talk but eventually will again vote for the limited options available (and most even won't vote).
IAC was built on national interest. But they lack the strategy needed to make things work. That's why IACs endeavors aren't succeeding. Politics is not easy but you people are not meant for easy tasks. You have the ability to make it. The nation is with you. We are hopeful. Do something more than anshans. Give us a good government. Go ahead. Be the change. Save the nation.