The Best Of Atal Bihari Vajpayeeji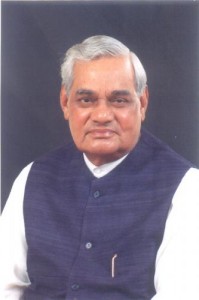 The Best of Atal Bihari Vajpayee, Atalji at his best. Quotation of Atalji. The poet hearted and one of the most respected P.M of India has been one of the rare leaders of India who has got the most respect at times when leaders and politicians are supposed to be crooks and even anti national!!!
Atal Bihari Vajpayee, who was born on 25 Dec 1924 at Gwalior, became the 10th Prime Minister of India. He is  the only Prime Minister outside INC(Indian National Congress) who has managed to serve for full 5 years. He is known for his unique style of speech, many of which were extempore. In a time where most politicians enjoyed being in their comfort zone by following old principles, he was one of those who took stand on issues he found closer to his heart.
Following are some of his famous speeches:
– Resignation speech after 13 days of Govt.

– Ataljis Speech on Nationalism
– Speech after coming back to Power
– Why we grew so less in 50 years?
– Nice program on him on his 87th Birthday.Must watch

– Poem on Pakistan