17 Facts About Narendra Modi you might not know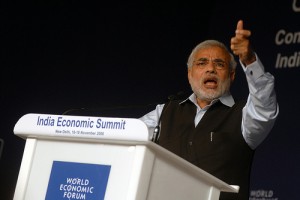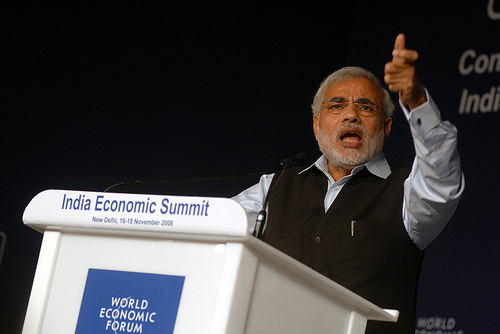 Love him or hate him, you cannot ignore the triple winner Gujarat Chief Minister. His way of talking and branding has been much talked about and although he do not speak that much, he make people speak about him. And whatever he says becomes NaMo mantra.
He is news by himself and every statement he gives starts discussions across the country. His opponents seem to be scared to talk much of him and those who have dared to fight him seem to have lost the battle without he being starting the fight(or atleast not visible)!!
Below are some of the facts about NaMo:
FACT 1
His full name is Narendra Damodardas Modi
FACT 2
He has been a member of RSS (Rastriya Swayamsevak Sangh) since childhood.
FACT 3
He holds a master degree in Political science from Gujarat University.
FACT 4
Although much is talked about Advani and Modi, but L.K Advani choose NaMo for the election campaign in Gujarat and Himachal Pradesh.

FACT 5
Narendra Modi is a pure vegetarian. He is strict of his food and diet.
FACT 6
Namo was born in a family of grocers on 17 sept 1950(3rd of 6 siblings).
FACT 7
In 1965, there was a war between India and Pakistan. Modi had volunteered to serve the soldiers in transit at a railway station.
FACT 8
Modi used to run a tea stall with his brother as a teenager!!
FACT 9
Modi was spiritually inclined and he was not interested in society and its rules. At the age of 18, he left his home to become a sanyasi at Himalayas, the saintly person in Hindu who leaves the worldly affairs and devotes his life for spirituality. But he was not getting peace of mind there and hence he returned back.
FACT 10
RSS deputed him to BJP in 1987.
FACT 11
Modi's name came into picture of being the CM candidate after lot of complaints from the earlier candidate Keshubhai Patel. L K Advani was worried to give a rather newbie with such a responsibility but he told L K Advani and Shri Atal Bihari Vajpayee that he should be given either full or no responsibility of Gujarat.
FACT 12
The rift between Modi and RSS started when he became chief minister and was implementing corporate governance which was against RSS idealogy.
FACT 13
2002 Gujarat riots claimed 790 Muslims and 254 Hindus. Modi's Government and he himself was held responsible for not acting on time and even helping the Hindus in this. Although none of the charges against him has been proved till date even though the rival congress was ruling the center for most of the time after riots.
FACT 14
Zakia Jafri claimed that when riots began in the area where she lived, her husband made a couple of calls to many politicians but SIT could not verify that. Even the calls were deemed unsubstantiated as many of the officers she referred to were not on the city that day. Many such allegations on NaMo have been proved wrong in the past.
FACT 15
He responded to an  urdu weekly on asking for apology as follows:
"There is no question of apologising because if I have committed this crime, then I should not be forgiven, I should be hanged. And I should be hanged in such a way that people should learn a lesson for 100 years that nothing like this should happen.
If I have not committed the crime, then the nation and the media especially should seek my forgiveness."

FACT 16
Modi is responsible for crashing the Google+ servers!!! He planned to interact with netizens on 31 August 2012 and the servers crashed on account of blockbuster response.
FACT 17
Modi appeared on the cover of Time Magazine in March'12, a feet achieved by a few Indian politicians. Also he was declared the best chief minister by a survey conducted by India Today magazine.