'Certificates' by MMS:-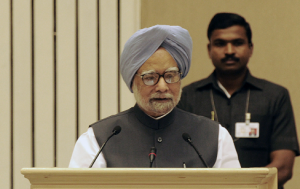 The Prime Minister of India, Mr. Manmohan Singh is notorious of being 'Maun'mohan Singh. He rarely speaks and whenever he does, there is mostly a controversy. And he finds himself in a vicious circle of being maun again. 
The latest remark he has given is a no difference to the way things have gone with him. After the BJP-JD(U) split he has certified JD(U) leader Nitish Kumar as "secular". May be he has a possible new alliance on mind. With the split from BJP, JD(U) has arguably the only abode for a ministry in center.
But below are a few more certificates and statements that has lead him to controversy. 
"

there is no doubt that Nitish Kumar professes to be a secular leader. But yesterday after seeing him shake hands with Modi, a doubt did arise in my mind

". This statement made the latter red and Mr. Manmohan Singh got a reply which made him speechless for sometime. This is what Nitish Kumar said- "The Prime Minister should not act like the vice-chancellor of some secular university. He is giving out certificates of secularism which I do not need."

Replying to a reporter on the coal scam he said"Hazaar sawaalo se meri khamoshi achi". This created a huge controversy and many deemed it as an irresponsible reply from a PM.
"Theek hai" The Prime Minister was heard asking his staff at the end of his address to the nation. He was addressing the people to assure that justice will be provided to the gang-rape victim. Things were not theek for him for the next few days. 
"

Judge me by my performance

" was his reply when he was challenged by L K Advani to debate and prove his work on a television debate.
"The Leader of Opposition, Shri LK Advani has chosen to use all manner of abusive objectives to describe my performance. He has described me as the weakest Prime Minister, a nikamma PM, and of having devalued the office of PM. To fulfill his ambitions, he has made at least three attempts to topple our government. But on each occasion his astrologers have misled him. This pattern, I am sure, will be repeated today. At his ripe old age, I do not expect Shri Advani to change his thinking. But for his sake and India's sake, I urge him at least to change his astrologers so that he gets more accurate predictions of things to come." One of the strongest reply by arguably one of the weakest PM of India.
"

Paise Ped Pe nahin lagte (Money does not grow on trees)". This was one of the most funny of his statements where he was trying to convince the people of India on the importance of FDI in retail. 
THE MOST CONTROVERSIAL OF THEM ALL!! 
(LIKE, +1 TO SEE IT)

Post your comments below on this.