Understanding the REFORM claims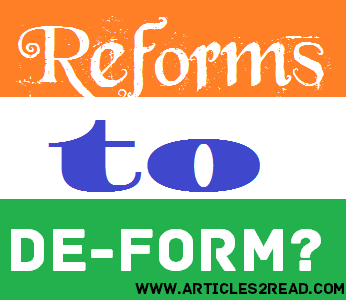 Troubled UPA government, which finds itself in one or the other scam every other week, has came with self proclaimed "reforms".
Now to begin analyzing it, I would like to be clear that I am pretty negative of it and my ideas may look biased. But then I have some serious questions and concerns which I will like to share at this point of time(Comments welcomed!!).
There is much to do to change the fate on nation which was considered to be a golden sparrow but now have a good amount of people earning less than half a dollar a day.
Let us see what the reform means for an aam aadmi and not for just an aam aadmi. FDI has been given a green signal but there are a few questions and concerns in my mind that makes me negative on it.
Let us see the WalMart story as told by the sarkar in particular- They claim that there is a middleman everywhere. This middleman is an agent and fixes price in such a way that they get maximum out of it. The farmer is left with no other option but to sell his item at a fixed price as decided by middleman. Now, finally the item goes to small/medium shopkeepers who sells items at a profit. Now everyone makes money but not the most deserving person – the farmer.
The logic behind it is given that WalMart will have contracts with farmers and there will be a fixed price scheme coming to place. Agreed.
Question::But then, are these foreign companies credible enough to give farmers their right and the right price? 
Many economists believe that such companies work on a loss for a year or 2 to make things look fantastic(it is spoilsport for the other businesses ) but eventually end up playing the dictator and monopoly in the game where they are the only warriors left.
Question::If these companies fail to do what the Government claims, will they be asked to leave?